Cancer fighter helps build a home as part of her bucket list | News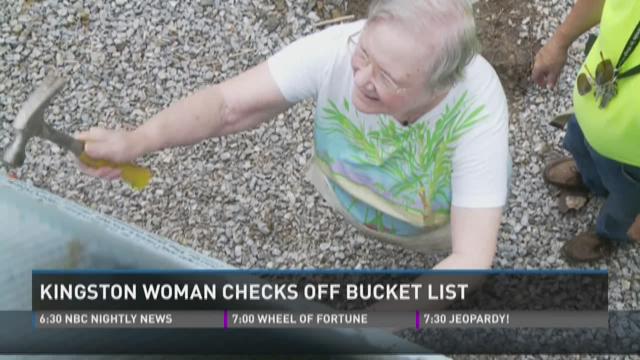 (WBIR) Dog-sledding in Alaska, a visit to the Grand Canyon and a Caribbean cruise are all things Alberta Bowker has checked off her bucket list.
Now the woman battling cancer added another accomplishment this week - one that includes giving back to others.
On Tuesday, Bowker joined with the Roane County Habitat for Humanity to help build a house.
"I hope that people know that no matter how sick you are, you can still have a smile on your face and still do things," Bowker said.
She's battled ovarian cancer for the last 4 years and might not be the worker you'd expect to find at a construction site.
"I don't think I would be here today if it weren't for the prayers I've had," she said.
The terminal diagnosis makes it difficult to get around, but doesn't damper her spirits.
"I've always wanted to do this, and it's on my bucket list. I don't have too many things left on it so I wanted to do while I was still able."
Bowker is comforted, knowing these walls will give someone shelter.
"I have a friend who is homeless right now and is living in her car all winter, and I think oh if she had just had a house," said Bowker, "And someone who would have helped her, so I know people that really need help and I just want to do that."
At 77 years old, the cancer warrior helped fulfill a lifelong wish, but is confident it won't be her last.
"God has put me here as an example, to do things and whatever he wants me to do, I haven't done yet, or I wouldn't still be here," said Bowker, "I've got another year and half to go yet, and I'm going to go longer than that."